One-click to display all time tracking stats
The new tab in your project navigation screen helps you to get a report with the most valuable time tracking information in just one click from side bar.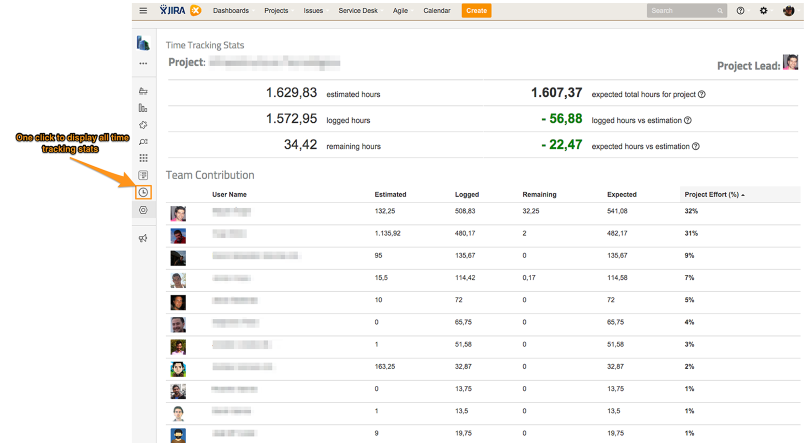 Track all your project time tracking stats
Track your estimation, logged and remaining hours. Track your consistency in estimation and the expected final hours for your project. Track your contract hours using the optional field in project configuration.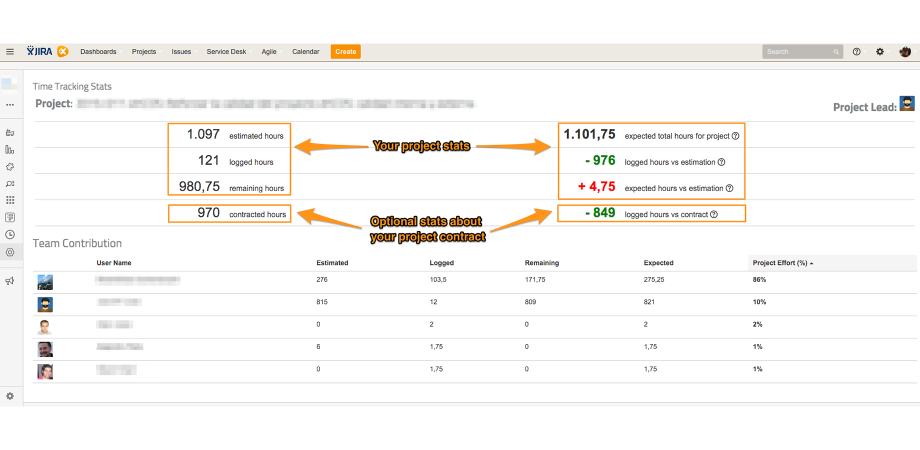 Track you team contribution to the project
Track your team members contribution to the project with all their time tracking information. You can even know each member effort on the project and check if everything is as it was supposed to be.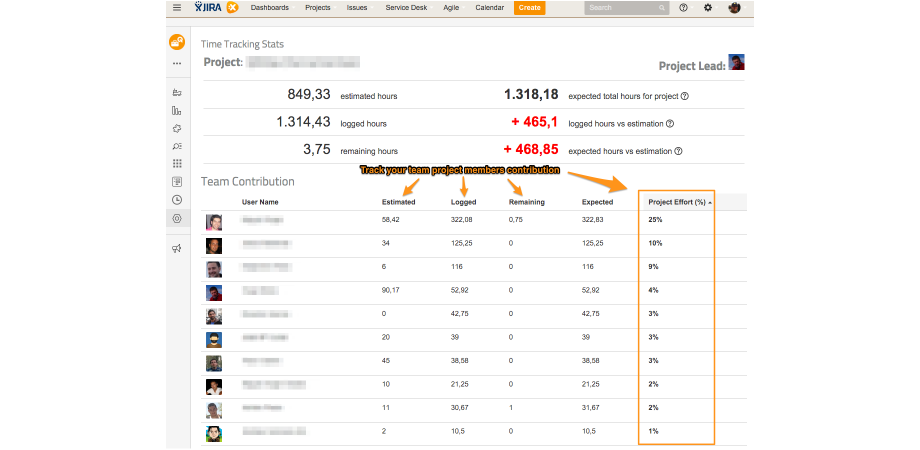 Track your project estimated, logged and remaining hours.
Track your consistency in estimating, with estimated vs logged hours.
Predict your project final stats with expected vs logged hours.
Track your team contribution to the project.
Time tracking stats for all your versions and releases.
Time tracking stats by components.
Time tracking stats per issue types.
Time tracking stats per any additional field you desire.
Time tracking stats to get team contribution in issue panel.
In addition you will be able to set an additional field in your project administration page to enter information about your project contract (contracted hours). This way you will be able to track your contract time and budget.
Log into your Jira instance as an admin..
Click the admin dropdown and choose Atlassian Marketplace. The Manage add-ons screen loads
Click Find new apps or Find new add-ons from the left-hand side of the page.
Locate the app via search. The appropriate app version appears in the search results.
Click Try free to begin a new trial or Buy now to purchase a license for the app. You're prompted to log into MyAtlassian. The app begins to download.
Enter your information and click Generate license when redirected to MyAtlassian.
Click Apply license.
If you're using an older version of UPM, you can copy and paste the license into your Jira instance.